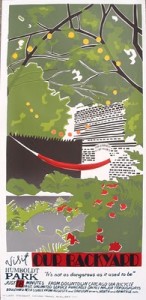 Founded in 2007 in response to rapid, cheap neighborhood development and pro-tourism campaigns, The Lady Dissident Chicago Travel Auxiliary aimed to meet the needs of all Chicago residents by providing a handy bicycle guide to secluded, comfortable locations within which to enjoy the splendors of our fine and prosperous, but occasionally troubled, city.  The LDCTA Publication Series was the collaborative effort of Anne Elizabeth Moore and Alana Bailey. The posters highlighted intimate spaces within specific Chicago Neighborhoods while addressing timely issues the neighborhood faced. They were considered anti-travel posters, encouraging the residents of the city to take more pride in the beauty of their local spaces and address the immediate issues facing their communities. Although a commercial form, and occasionally hung in commercial environments, these posters take an anti-commercial stance, encouraging residents to think more carefully about their ownership over their city. Most are hung in public spaces or public spaces of commerce; very few are sold to private collectors.
The Series began in July 2007 with the above 5-color poster for Humboldt Park with the following text:
Visit Our Backyard Humboldt Park: It's not as dangerous as it used to be: Just 18 minutes from downtown Chicago via bicycle — Fast, unlimited access on all major throughways Boulevard accessible from Augusta and Division Streets, North and Armitage Avenues.
Printed in an extremely limited edition of 25, the Humboldt Park poster was posted around the city in various locations. Many of the posters were stolen within days. It was featured in Time Out Chicago in November, 2007.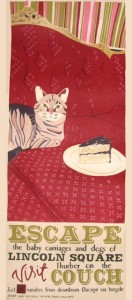 The Series continued in April 2008 with an 8-color poster about Lincoln Square:
Escape the baby carriages and dogs of Lincoln Square: Visit Thurber on the couch — Just 45 minutes from downtown Chicago via bicycle.
The Lincoln Square poster was printed in an edition of 100.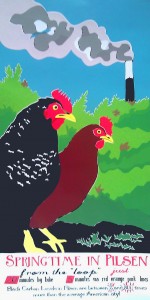 In June of 2011, the third and final poster was released, Springtime in Pilsen. The tertiary installment in the Publications Series aimed to inform the careful reader of the delightfully alarming Black Carbon Levels in the historic and populous Chicago neighborhood, where many a resident has recently taken to urban farming.
The Lady Dissident Chicago Travel Auxiliary was pleased to announce that the final edition of Springtime in Pilsen was purchased by 25th Ward Alderman Danny Solis, who famously downplayed the black carbon levels in his ward (and the resultant asthma levels) for several years before agreeing to co-sponsor the Chicago Clean Air Ordinance in spring of 2011.
These posters have been photographed, photocopied, and pirated by enthusiasts. Although many sold out several years ago, the LDCTA still receives inquiries about them. In 2011, the Lady Dissident Chicago Travel Auxiliary was pleased to receive funding from the Propeller Fund, a re-granting initiative backed by the Andy Warhol Foundation.