New Girl Law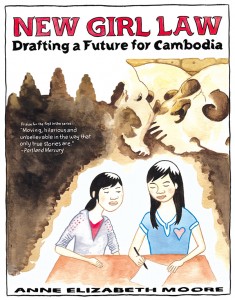 A "post-Empirical, proto-fourth-wave-feminist memoir" —Bust Magazine
The highly anticipated follow-up to the award-winning Cambodian Grrrl from Cantankerous Titles.
When Anne Elizabeth Moore, a writer and independent publisher, brought her experience in the American cultural underground to Cambodia on the cusp of the global economic meltdown, she intended to share a skill that would allow young women the opportunity to share and archive their own stories. Instead, these children of Khmer Rouge survivors, emerging from generations of poverty, ended up rewriting history.
The Cambodian Chbap Srei is a traditional didactic text intended to establish a code of conduct for young women. The first large group of young women college students in the country acknowledged its cultural value, but deemed it repressive. Together with Moore, they decided to rewrite it. The process culminates in a grand discussion of human rights and gender equity, and a hand-bound, gold-colored book. But what happens to the book, and what it ends up teaching Moore and Cambodian women about censorship, self-censorship, and political voice, is chilling.
This continuation of the book series initiated with Cambodian Grrrl: Self-Publishing in Phnom Penh is darker, deeper, and more emotional, as Moore explores her young friends' pasts and futures in chapters devoted to their stories, travels with them to the Killing Fields, and works to ensure them a happy and secure future in a world doing its best to silence them.
A "post-Empirical, proto-fourth-wave-feminist memoir-cum-academic abstract [that] makes our country's Mommy Wars look like child's play—and proves … why we should be paying attention to Cambodia's record of human rights and gender equity." —Bust Magazine
–
Voice of America's Jim Stevenson talked to Moore about the book, in a short piece archived here.
Truthout's Alissa Bohling conducted an in-depth interview with Moore.
New City published an interview with Moore on the book called, "There is no similar place."
The Phnom Penh Post wrote a feature on New Girl Law titled "Girls rule in new draft of moral code."
Read Moore's Next Big Thing interview, sort of a FAQ on NGL, here.
–
Reviews of Cambodian Grrrl
"The best travel book I've read this year."—USA Today
"[T]here is not an ounce of the self-righteous paternalism that often accompanies travelogues like this. … Moore is one of the sharpest thinkers and cultural critics bouncing around the globe today. In a few short paragraphs, she can explain the political significance of photocopying and distributing your thoughts far better than any scholarly work ever could. What she accomplishes in less than a hundred pages is stunning, as she deftly and intelligently weaves together women's rights, globalization, democracy, corruption, genocide, ethics, and self-empowerment. Moore's writing voice is humorous and compelling, especially as she never casts herself as an authority of anything, but honestly shares her own doubts and self-criticisms. But, most importantly, she uses this book to amplify the voices of the young women at the center of this project. Make no mistake, this book is DIY punk put into action." —Razorcake
"Moving, hilarious, and unbelievable in the way that only true stories are."—Portland Mercury
"Moore's unfeigned candor, along with an inventive, almost giddy narrative voice that becomes more and more like the voices of her teenage dorm mates, leaves scarce room for readers to indulge their cynicism. Moore hits the mark on just about every topic [revealing a] skill at distilling complicated ideas through a language barrier with a veteran artist's acute irreverence … With its slender binding and intimate voice, Cambodian Grrrl … risks more, and reveals more, than plenty of those longer books that are practically branded as "serious literature" (you know the ones). Its emotional and intellectual honesty remind us what storytelling is for."—Truthout
"Quite enjoyable … I would highly recommend Cambodian Grrrl." –Gender Across Borders
"One of the most important books of the year." —largeheartedboy
"Cambodian Grrrl exposes — whether it was Moore's intention or not — how corporate control of the media in the US is continuous with the logic of profitability which creates exploitative conditions in Cambodia [and] attains the modest yet important success of making personal narratives and experience matter to critiques of history and globalization."—Hyphen Magazine
"This book is neither about Cambodia nor self-publishing. Rather it is about love. … Somehow [the author] is able to discuss issues of democracy, freedom of speech, the global garment market, slave labor, rape, mass murder and a litany of other tough subjects and leave me smiling. That left me with hope that all we really do need is love."—Viva La Feminista
"This book is totally amazing. . . . Travelogue, memoir, DIY love story, political history, compulsively readable. You'll be smarter and doubly inspired when you're done with this big little book." —Michelle Tea, RADAR Productions
"A quirky, brisk, and piercingly honest recitation of one woman's experience in a post-conflict society overseas."—The Rumpus
"Cambodian Grrrl is an account of teaching freedom of speech where it's least wanted."—Windy City Times
"Rating: 4.5/5. Recommended for: Anyone who has ever sat down with a pile of photocopied pages, a mixtape, a notebook or a pen and wanted to say something."—For Books' Sake
"I received your book, Cambodian Grrrl … and loved it! Read it in one day … too good to stop. It brought back memories of when I first arrived in Cambodia. Now I'm a local … and have decided to stay in Cambodia for good."—Her Royal Highness Soma Norodom
–
Please enjoy this series of previews published over the course of Women's History Month in anticipation of the book's release:
Be Patient, from chapter two, "Rewriting the Rules."
The Fish Heads Look Amazing, from chapter two, "Rewriting the Rules."
Funding Should be Established in Support of Cultural Production, from chapter four, "Chbap Srei Tmein."
I Am Very Exciting, from chapter eight, "Field Trip."
I Do Not Want You Home, from chapter nine, "Nobody Miss You."
–