Rest Area on the Path Toward a More Just Future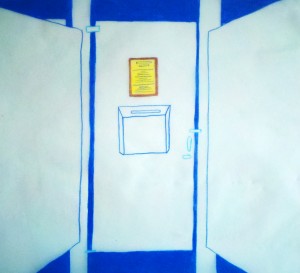 A part of the exhibition Opening the Black Box: The Charge is Torture, Rest Area on the Path Toward a More Just Future is a proposal for installations in the police department bathroom stalls in each of Chicago's five Detective Areas. These installations are to include the full text of the Law Enforcement Oath of Honor and a drop box, and celebrate the spirit of the first police officer to uphold it, some 18 years after allegations of police torture under Detective Jon Burge came to light. Each installation acts as a secure and unsurveillable letter-drop, a space for officers, privately and without fear of oversight, to uphold their oath. These boxes are not intended to attract new allegations, nor act as commemorative plaques to the anonymous whistleblower. They are intended to carve out a space for dissent within tightly controlled environments, and create room for the genuine human reactions of revulsion, concern, and compassion that must precede the act of putting one's own future in jeopardy to acknowledge witnessed injustice.
Opening the Black Box is an exhibition of the Chicago Torture Justice Memorials Project (CTJM), and presents more than 70 submitted proposals for how to memorialize reported cases of torture by Chicago Police. Over the last year, CTJM has held a series of workshops, discussions, lectures, and exhibitions to share knowledge about this history, and to consider how to memorialize over one hundred reported cases of torture. Responses to CTJM's open call for proposals include a multitude of forms created by artists, architects, writers, educators, and justice seekers all over the world. By exhibiting and distributing these speculative monuments and art works, Opening the Black Box: The Charge is Torture seeks to honor the survivors of torture, their family members, and the affected African American communities, while amplifying the voices calling for justice. The CTJM organizing committee is Chicago artists Laurie Palmer, Mary Patten, and Ellen Rothenberg.
The exhibition runs October 5 through December 21, 2012 at The School of the Art Institute of Chicago, Sullivan Galleries, 33 S. State Street, 7th Floor, Chicago.