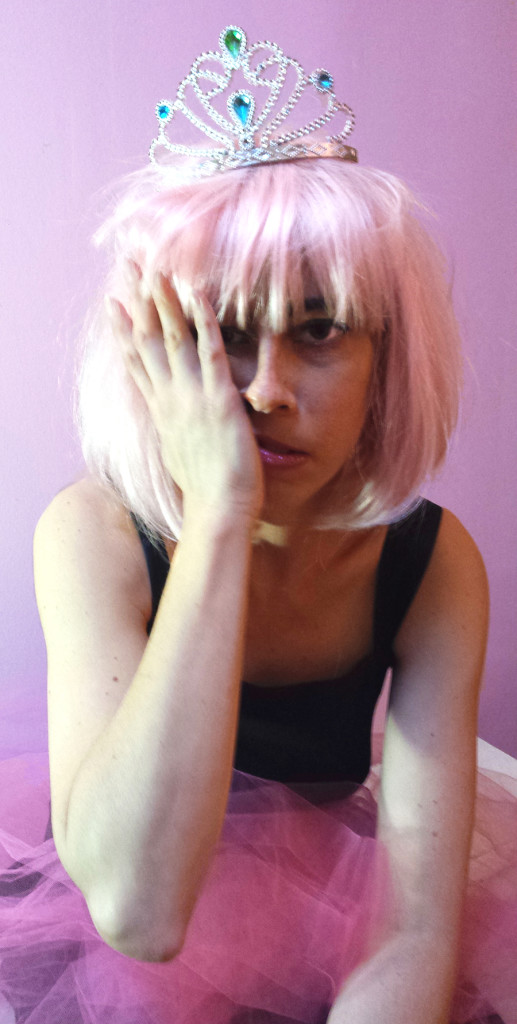 Anne Elizabeth Moore is an award-winning journalist, best-selling comics anthologist, and internationally lauded cultural critic. She has been heralded as "one of the sharpest thinkers and cultural critics bouncing around the globe today" by Razorcake, a "general phenom" by the Chicago Reader, and "a critic" by the New York Times. Moore has also been called "Fun" by FastCompany, "Rad writer" by Time Out New York-Kids, a "Notable underground author" by the Onion, "the next generation of anti-commercial artists," by Ron English and "a perfect altruistic punk-rock super-heroine" by the folks at Hipster Book Club. (Technically they were reviewing a short story by Elizabeth Crane.)
Her book Unmarketable was named Best Book of 2007 by Mother Jones. Body Horror is on the Nonfiction Shortlist for the 2017 Chicago Review of Books Nonfiction Award and was named a Best Book of 2017 by the Chicago Public Library. Cambodian Grrrl received a 2012 Lowell Thomas Award for Travel Journalism. Threadbare made the 2016 Tits & Sass list of "Best Investigative Reporting on Sex Work." Moore's essays "Reimagining the National Border Patrol Museum (and Gift Shop)" and "17 Theses on the Edge" were honorable mentions in Best American Non-Required Reading (2008 and 2010, respectively). She is the former editor of seminal, award-winning Punk Planet and the founding editor of the Best American Comics, which continues to be a New York Times bestselling title. She has exhibited work in the Whitney Biennial in New York; in Leipzig, Phnom Penh, Berlin, Tbilisi, Lisbon, and Vienna; and in a solo exhibition at the Museum of Contemporary Art in Chicago.
Moore's work has been acclaimed by The New York Times Magazine, USA Today, The Rumpus, Time, Mother Jones, ThinkProgress, Bitch, Advertising Age, Forbes, Women's E-News, the Guardian, and Entertainment Weekly. She has been featured in the New York Times, Chicago Sun-Times, Detroit Free Press, the Chicago Reader, Bookslut, the Indypendent, Rumpus, Time Out Chicago, the New York Times, and on the covers of New City and Verkholetti; and on Radio Australia, Voice of America, VOA Khmer, Georgian National Television, CNN, GritTV with Laura Flanders, Worldview with Jerome McDonnell, WBEZ's 848, WFMU, WDET, and WTTW.
Moore has been honored to receive a National Endowment for the Arts Award, a UN Press Fellowship, a USC Annenberg/Getty Arts Journalism Fellowship, and two Fulbright Scholarships. She teaches at the School of the Art Institute of Chicago and the College for Creative Studies. She was born in Winner, SD. In 2016, she was awarded a fellowship in Detroit's unique Write A House program, and currently resides there with her cat.
Audio and Video Interviews and Documentaries
Off:Re:Onshore, Canadian Centre for Architecture (2018)
Write a House : écrire le futur d'une ville fantôme, Solidarum (2017)
Write-A-House (with Sarah Cox), WDET (2016)
Detroit's Write A House Program Presents Keys to Latest Home Recipient, WXYZ (2016)
A Different Kind of Comics Convention Hits Town, Chicago Tonight (2015)
Money and Lies in Anti-trafficking NGOs, The Matthew Fillipowicz Show (2015)
American Writer Tells Story of Cambodian 'Women on the Rise', VOA Khmer (2015)
Vienna Art Week: Die Wiener Männermode, Leporello, Ö1 (2014)
Ladydrawers: Our Fashion Year and the early years, Helsingin Sanomat (2014)
Our Fashion Year, The Matthew Fillipowicz Show (2014)
Political unrest in Cambodia, LBO News from Doug Henwood (2014)
AWP '12: Anne Elizabeth Moore, High Volumes with Joelle Jameson (2012)
Garments, Gadgets, and Third World Labor with Anne Elizabeth Moore, Radio Free Ruin (2012)
American Grrrl's Zine Project with Cambodian Women, ABC Radio Australia (2011)
DIY media in Democratic Cambodia, The Rapidian (2011)
Anne Elizabeth Moore on Cambodian Grrrl, The Matthew Filipowicz Show (2011)
Anne Elizabeth Moore on Ladydrawers, The Matthew Filipowicz Show (2011)
Independent Voices, GritTV with Laura Flanders (2010)
Self-Publishing in Cambodia, Worldview With Jerome McDonnell (2010)
Corporate Graffiti, Submedia TV (2008)
There is No Media Justice Without Women, National Conference on Media Reform (panel audio, 2008)
Anne Elizabeth Moore: Unmarketable, Bad at Sports (2008)
Corporations Cash in on the Counterculture, WBEZ's 848 (2007)
Interview with Anne Elizabeth Moore, WFMU's The Speakeasy with Dorian (2006)
Anne Elizabeth Moore of the Best American Comics, WBEZ's 848 with Steve Edwards (2006)
Print and Online Features
Write A House is Building a New Literary City in Detroit, Publishers Weekly (2016)
Anne Elizabeth Moore on New Book and Shoddy State of Chicago Publishing, WTTW (2015)
Rebellion in a Panel, Tuima.fi (2014)
Sarjakuvakäsikirjoittaja Anne Elizabeth Moore lähti intiaanireservaatista Kambodžaan, Helsingin Sanomat (2014)
The Wonder Woman Interview with Anne Elizabeth Moore, Straitened Circumstances (2014)
The Anti-Nicholas Kristof Backlash, Buzzfeed (2012)
The Rumpus Interview with Anne Elizabeth Moore, The Rumpus (2012)
'Ladydrawers' Creates Big Picture of Cartoon Bias, Women's E-News (2012)
Hostile Questions, Booklist (2012)
"Cambodian Grrrl" Brings Self-publishing to Phnom Penh, Today's Chicago Woman (2011)
Anne Elizabeth Moore: Garment Work, CBS2 Chicago (2011)
Negotiating an Artistic Practice in a Capitalist Ecology, Art21 (2011)
Have Microphone, Will Listen—So Please Take Your Time, Flood Magazine (2010)
Write or Wrong, Time Out Chicago (2009)
Q&A With Anne Elizabeth Moore, Rob Walker's Murketing.com (2007)
An Interview With Anne Elizabeth Moore, Bookslut (2007)
Marketing At the Dinner Table, The Indypendent (2007)
"Seeing Red," New City (cover feature, 2007)
Moore, Anne Elizabeth: Lumpen (2006)
Name That Toon, Time Out Chicago (2005)
Miscellaneous