The Adventure School for Ladies is an occasional, experimental graduate program that explores gender, cultural production, political engagement, and economic matters with the top ladylike scholars in the field of adventure studies.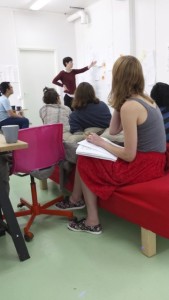 Our 2016 program was divided into two international sessions. Session I was held over a single week in Detroit, Michigan in June. We worked with young women from the local Bengali community on comics-making projects and members of The Ladydrawers and Femicomix Finland on compiling data compiled during our international comics survey. Session II was held at the Saari Residency in Finland in July of that same year. For two weeks, individual women and trans artists from around the globe (including members of The Ladydrawers, Femicomix Finland, and Sweden's Dotterbaloget) analyzed data, developed scripts, generated pencils, and created final inked comics from the same international comics survey. Three comics from this session, presenting our censorship data, were published in recognition of Banned Books Week on PEN America's blog.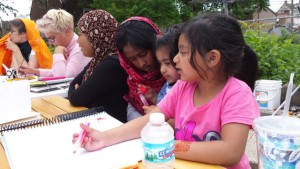 Our 2012 program ran for two weeks in advance of the Chicago Alternative Comics Expo (Cake). This collaborative comics intensive was held at Chicago's Read/Write Library and Spudnik Press in Chicago, Illinois. We hosted top and emerging ladylike drawers as they created and published a collaborative comics anthology based on research of gender, race, and economics in the comics industry. The 2012 summer session featured innovative lunch programming in which local artists and creative entrepreneurs come and speak about their practice over a shared meal, a theory- and history-based syllabus, and the very best comics artists Chicago has to offer. Our anthology, Hand Job: A Labor of Love, is unfortunately out of print.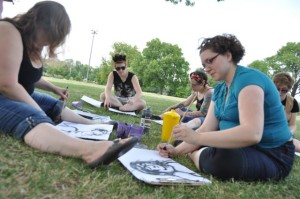 Our Winter 2011 experiment adventured the notion of school by having students contribute equally to group learning experience, as an exercise in intellectual trust. Absolutely nothing was supplied by the school except administrative support; scholars were required to bring all curricula, drinks, foods, study materials, and spa entrance fees—for our orientation session—necessary to attend and create an educational environment.
The Adventure School for Ladies supported the creation of a feature on PEN America's blog, featuring this essay and three comics on censorship, available at the link.
Comics creator Edie Fake called the project a "tripped-out grad school" in his scene report for The Comics Journal.
New City wrote up a report on our work here.